Best of Tennessee Craft
Craft Stars
A Reception Honoring the 2021/22
Best of Tennessee Craft Award Winners
at Gruhn Guitars
Saturday, August 6 | 6:30 p.m.
Join us for a celebration of the 2021/2022 Best of Tennessee Craft Award Winners! The evening will honor exemplary craft art, with awardees in attendance and examples of their artwork on display. Guests can enjoy a demonstration from Best of Tennessee Craft Award Winner Beizar Aradini, a musical performance on the oud, and a tour of Gruhn Guitars workshops. Kurdish-themed heavy appetizers, a dessert bar featuring favorites from awardees, and wine and non-alcoholic beverages are included.
Tickets are $40 per person. Best of Tennessee Craft 2021/2022 awardees and Collectors' Circle sponsors may reserve two complimentary tickets per household. Capacity is limited, so purchase your tickets soon!
You may also purchase tickets by check or money order. Please mail your payment and attendee details by July 30, 2022 to: Tennessee Craft, PO Box 120066, Nashville, TN 37212.
Craft Stars is generously supported by:
The Best of Tennessee Craft 2021 Biennial was presented at the Tennessee State Museum in Nashville, October 29, 2021—February 20, 2022. Jurors Peter Baldaia and Annabeth Hayes Dooley selected the 75 craft artworks for this exhibition, ranging from traditional forms to cutting-edge conceptual pieces, representing artists from Memphis to Johnson City.

Award Winners
Best in Show – Beizar Aradini
Nashville—Fiber/Textile
First Place – Marty McConnaughey
Sharps Chapel—Basketry
Second Place – John Jordan
Cane Ridge—Wood
Third Place – Ashley Seay
Nashville—Sculpture
Merit Awards: 
Jeanne W. Brady, Smithville—Fiber/Textile | Sherri Warner Hunter, Bell Buckle—Sculpture | Monya Nikahd, Watertown—Fiber/Textile | Lesley Patterson-Marx, Nashville—Fiber/Textile | Ronald E. Young, Chattanooga—Wood
---
---
2021 Best of Tennessee Craft Exhibiting Artists
Beizar Aradini, Nashville—Fiber/Textile
Chris Armstrong, Nashville—Fiber/Textile
Elizabeth Barthel, Franklin—Jewelry
Roberta Bell, Nashville—Mixed Media
Cindy Billingsley, Cookeville—Sculpture
Lindsay Bodanza Dawley, Loudon—Wood
Jeanne W. Brady, Smithville—Fiber/Textile
Judy Brater, Knoxville—Clay
Curtiss Brock, Smithville—Glass
Jeff Brockett, Mt. Juliet—Wood
Ben Caldwell, Nashville—Metal
Rick Cannon, Memphis—Wood
Martha Christian, Nashville—Fiber/Textile
Bill & Tina Collison, Unicoi—Wood
Louis Colombarini, Dowelltown—Sculpture
Judith Condon, Sewanee—Sculpture
Travis E. Curtis, Whites Creek—Wood
Laurie Davis, Nashville—Mixed Media
Rima Day, Thompson's Station—Fiber/Textile
Audry Deal-McEver, Nashville—Clay
John Donovan, Nashville—Clay
Richard Dwyer, Gray—Wood
Eliza Frensley, Nashville—Printmaking
Mindy Herrin-Lewis, Johnson City—Jewelry
Sherri Warner Hunter, Bell Buckle—Sculpture
Stephen Hutchins, Joelton—Sculpture
John Jordan, Cane Ridge—Wood
Ulrika Leander, Norris—Fiber/Textile
Simon Levy, Ashland City—Wood
JoEl Levy LoGiudice, Ashland City—Fiber/Textile
John C. Lucas, Sparta—Wood
Alisa Martin, Madison—Jewelry
Asia Mathis, Nashville—Clay
Marty McConnaughey, Sharps Chapel—Basketry
Keavy Murphree, Nashville—Clay
Monya Nikahd, Watertown—Fiber/Textile
Abraham Pardee, Sparta—Sculpture
Carrie Anne Parks, Chattanooga—Clay
Lesley Patterson-Marx, Nashville—Fiber/Textile, Mixed Media
Jin Powell, Memphis—Sculpture
Tom Rice, Franklin—Sculpture
Mary Ruden, Seymour—Sculpture
Jennifer Sargent, Memphis—Fiber/Textile
Brooke Elena Schneider, Nashville—Clay
Ashley Seay, Nashville—Sculpture
Felicitas Sloves, Memphis—Fiber/Textile
Tim & Nancy Startup, Nashville—Sculpture
Sarah Stobbe, Arlington—Clay
Hanna Traynham, Johnson City—Clay
Vickie Vipperman, Kingston Springs—Fiber/Textile
Sadie Wang, Baxter—Jewelry
Kimberly Winkle, Cookeville—Wood
Will Winton, Sewanee—Sculpture
Rena Wood, Cookeville—Fiber/Textile
Ronald E. Young, Chattanooga—Wood
Becky Ziemer, Memphis—Clay
Are you interested in purchasing any of the works in this exhibition? CLICK HERE for an inventory and price list.
Contact Tennessee Craft to facilitate communication with an exhibiting artist.
---
Then and Now: A Black Craft Symposium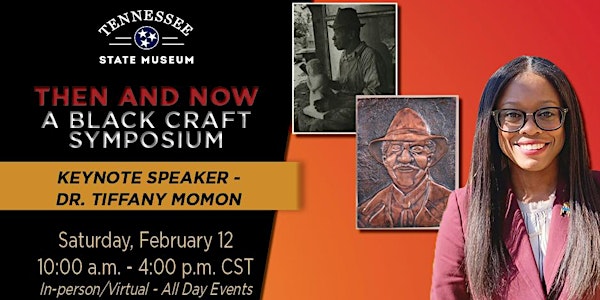 Then & Now: A Black Craft Symposium was a day-long event at the Tennessee State Museum on Saturday, February 12, devoted to honoring the legacy of Black craftspeople in Tennessee and examining Black Craft in Tennessee today. This event highlighted the voices of Black craftspeople from the past and present, encouraging visitors to learn the history and heritage of Black Tennessee craftspeople and interact with contemporary Black craft artists.
These talks were livestreamed and are available on the Tennessee State Museum website at https://tnmuseum.org/videos
10:00 a.m. Black Craftspeople on the Tennessee Landscape: Dr. Tiffany Momon, Assistant Professor of Southern Studies at the University of the South, gave her keynote talk discussing her work with the Black Craftspeople Digital Archive.
11:30 a.m. & 3:00 p.m. History of Black Craftspeople in Tennessee Museum Gallery Tour: Museum guides led 30-minute tours of the galleries highlighting Black craftspeople in Tennessee.
1:00 p.m. Making a Home: William Edmondson's Calling: Presented by Mark Schlicher, this lecture spoke to Nashville sculptor William Edmondson (1870-1951) and his legacy in Tennessee. Edmondson was known for his animal and human figures that he created from limestone, and in 1937, he became the first African American artist to have a solo exhibition at New York's Museum of Modern Art.
2:00 p.m. Where We Were and Where We'll Be: The Future of Craft Artists: This moderated discussion with current Black Craft artists in Tennessee focused on their challenges and triumphs in contemporary craft. Carlton Wilkinson moderated the panel, which included Betty Turner, stained glass; Santana Matlock, concrete; Christine Roth, pottery; Ameena Henderson, pottery; Jackie Welch Schlicher, pottery, and Michael Gatson, wood.
---
Artist Talk & Demo:
Best of Tennessee Craft Award Winner Beizar Aradini
Beizar Aradini, a Fiber/Textile artist based in Nashville, discussed her recent artist residency in Peru and her background and artwork as part of the Midstate Chapter's "Tennessee Craft Maker Meet Up" series hosted at the Tennessee State Museum. You can watch a recording of Beizar's talk and demo via the Tennessee State Museum's Live Stream.
The Best of Tennessee Craft exhibition included two of Beizar's embroidered artworks, including "My Existence is Political," which took the top prize in the biennial.
---